Pick up your East Lansing news.
There's so much to catch you up on!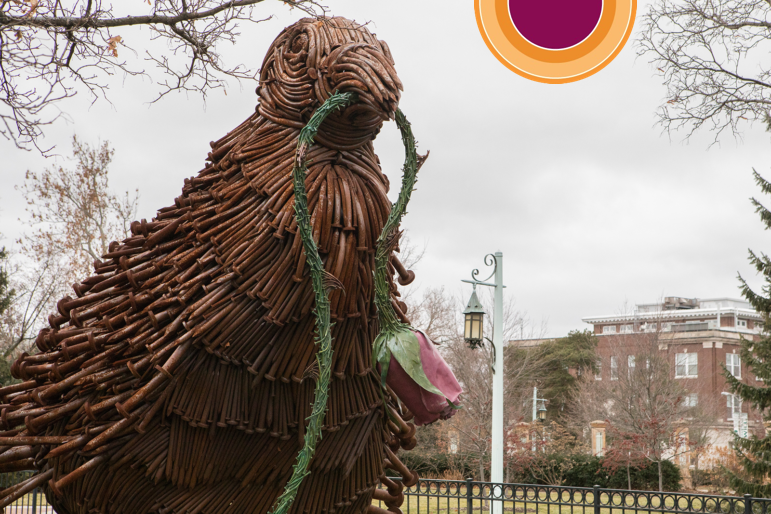 But before we get to the news, we wanted to make sure you know that, this weekend (Saturday and Sunday), Edgewood United Church will be hosting the 37th East Lansing Women in the Arts Festival. Enjoy art, poetry, music, food and lots more. Read all about it in this ELi report.
East Lansing's City Council did not meet this week because of Election Day, but Planning Commission met and voted unanimously to recommend approval of a permit to sell recreational marijuana at a new shop being constructed on Merritt Road near Costco. ELi's update is here.
At the beginning of the week, ELi brought you a special report including interviews with City staff about how they see the Valley Court Park renovation project. Later today at East Lansing Insider, we're bringing a report out of Planning Commission and Historic District Commission to let you know what those two bodies are thinking about the plans. Dog park? Performance space? An alternative plan for the farmers' market? And what do the market vendors themselves think? Find out at the Insider.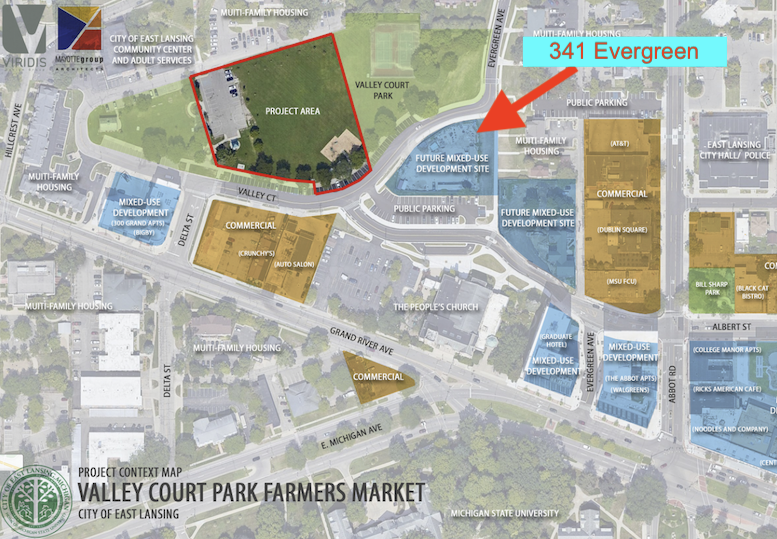 East Lansing Planning and Zoning Administrator Peter Menser told Planning Commission this week there are still talks going on about building a low-to-moderate income level rental apartment building at 341 Evergreen Ave., in the vacant triangular space across from the Valley Court Park tennis courts (see map above). Menser said the City of East Lansing, the Michigan Economic Development Corporation and developers are actively working on the question of how to get that project done. For background, see this special ELi report.
On Tuesday, the East Lansing Public Library millage passed overwhelmingly with about 85% of voters in favor.
Not-yet-certified vote counts show that the race for East Lansing Public Schools' Board of Education resulted in the two incumbents – Terah Chambers and Kath Edsall – being reelected, along with newcomers Tali Faris-Hylen and Amanda Cormier.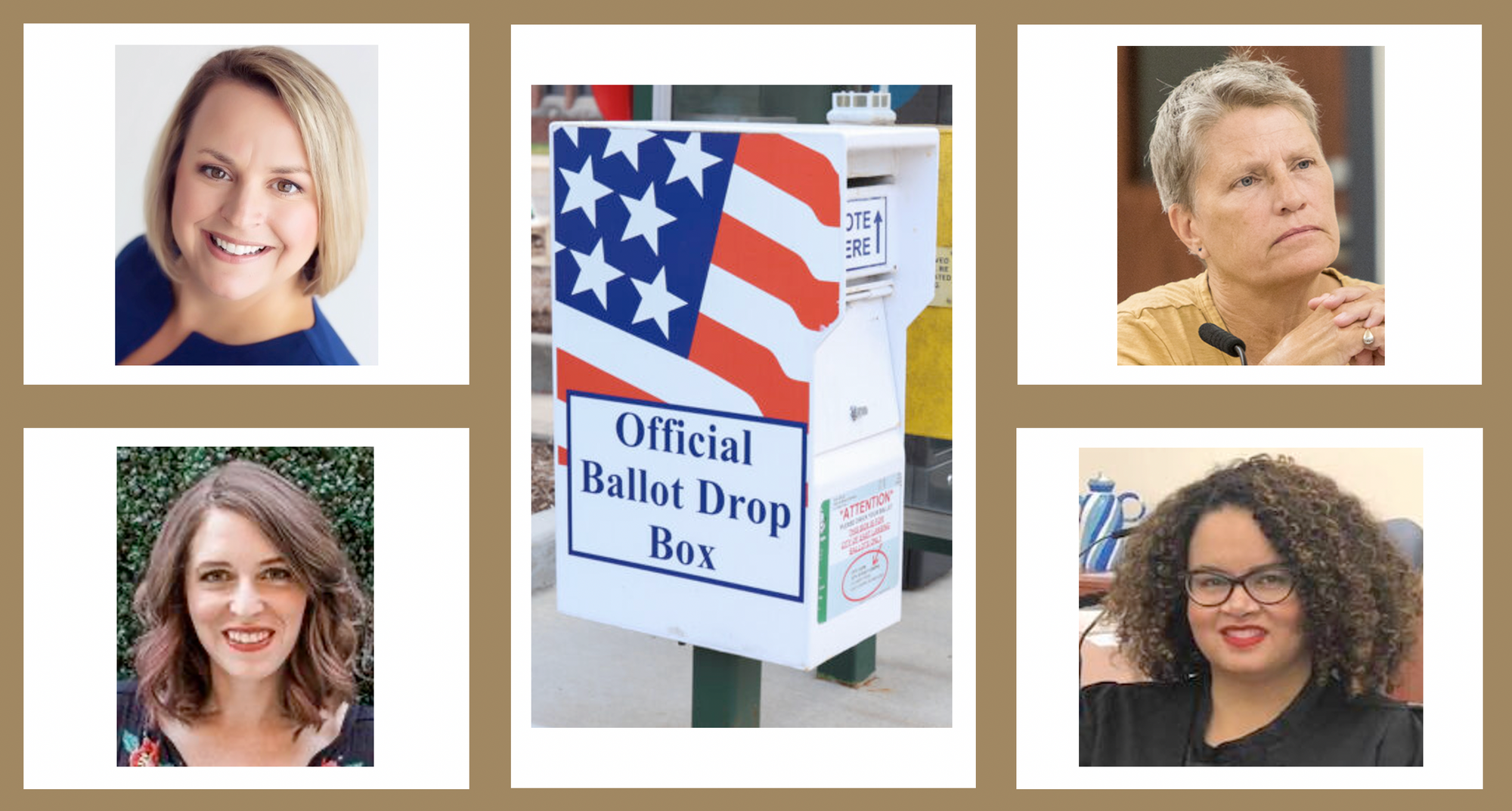 MSU students showed up in droves to register and vote for this midterm election. Find ELi's report and video here.
On Election Day, ELi also brought you the answer to a reader's question about whether nonprofit religious organizations can put political signs up. That "Ask ELi" column included interviews with Father Gordon Reigle of St. Thomas Aquinas Parish and Thasin Sardar, member of the East Lansing Islamic Center's Board of Trustees.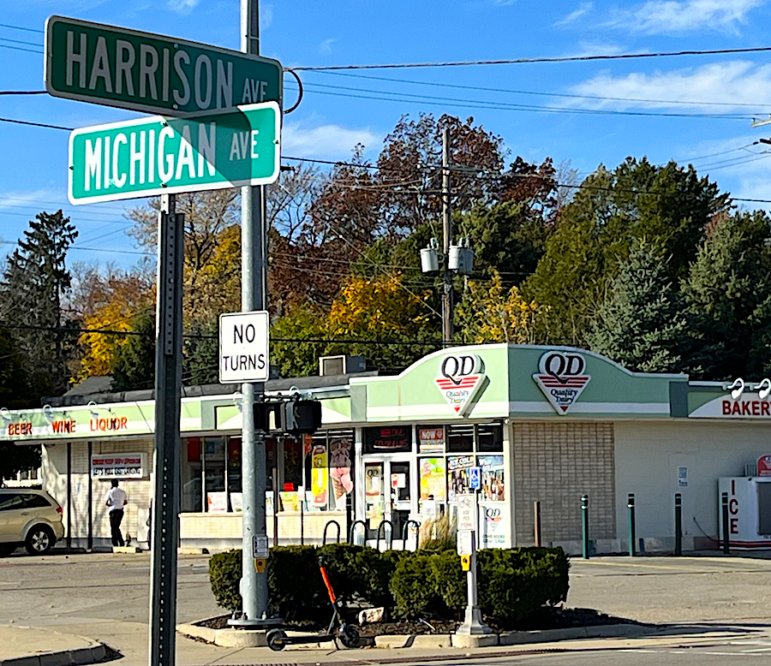 After breaking the story that the Quality Dairy store at the corner of Michigan Avenue and Harrison Road is closing, ELi quelled rumors that a pot shop could be going in. This week, ELi brought you fresh interviews with property manager Doug Cron and Quality Dairy CEO and President Ken Martin about the closing of that QD and what to expect next. Read on.
What's coming up this week?
The Ingham County Health Department and Michigan State University are co-hosting a special vaccine clinic on Nov. 16 from 10 a.m. to 6 p.m. at MSU's Breslin Center. You can get your first or second COVID-19 vaccine or the bivalent booster for free. The flu shot is also available at low-cost or no-cost, so don't let worry about cost keep you from taking this chance to get your flu shot. Parking is free. Appointments are encouraged (click here to make one) but you can also walk-in. Questions or need help? Call 517-887-4623.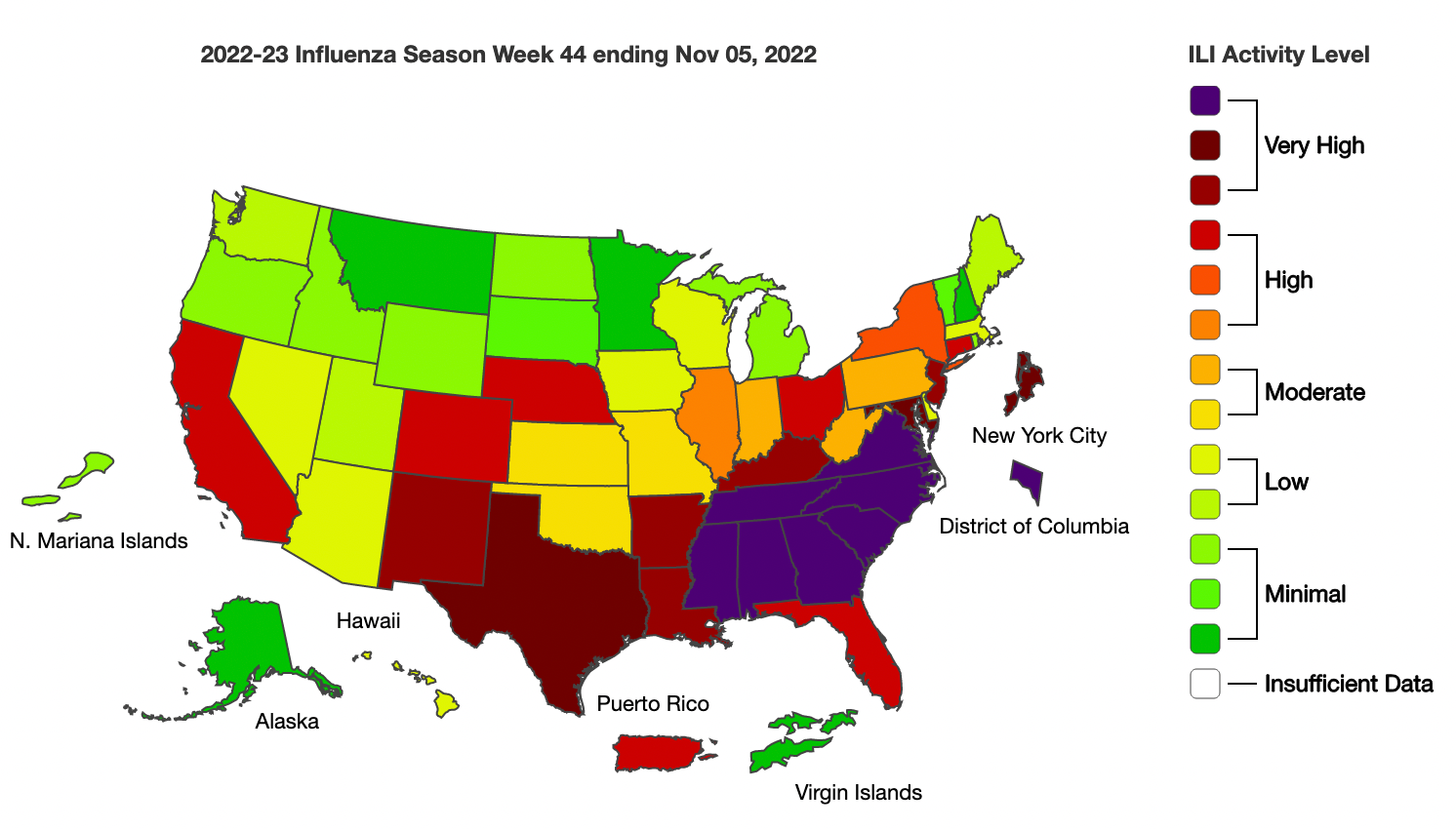 It'll be a busy week in public schools' administration here. East Lansing's newly constituted school board will meet Monday, Nov. 14, starting at 7 p.m. at the high school. The agenda, when ready, will be posted here. On Nov. 16, the board's Policy Committee meets and on Nov. 17, the Finance Committee meets. Thursday, Nov. 17, also sees a meeting of the district's Sex Education Advisory Board starting at 6:30 p.m. at the high school Board Room.
And it's going to be a busy week in City government, too.
On Tuesday, Nov. 15, City Council will hold a special meeting that includes discussion of who to appoint to replace Lisa Babcock, who has been elected to the 54B District Court bench. Also up for discussion: late fees assessed on restaurants related to local regulation; what to do with the 27 acres the city owns at the corner of Coleman and West Roads; the Fair and Impartial Policy Study from CNA, a contractor hired by the city. See the agenda here.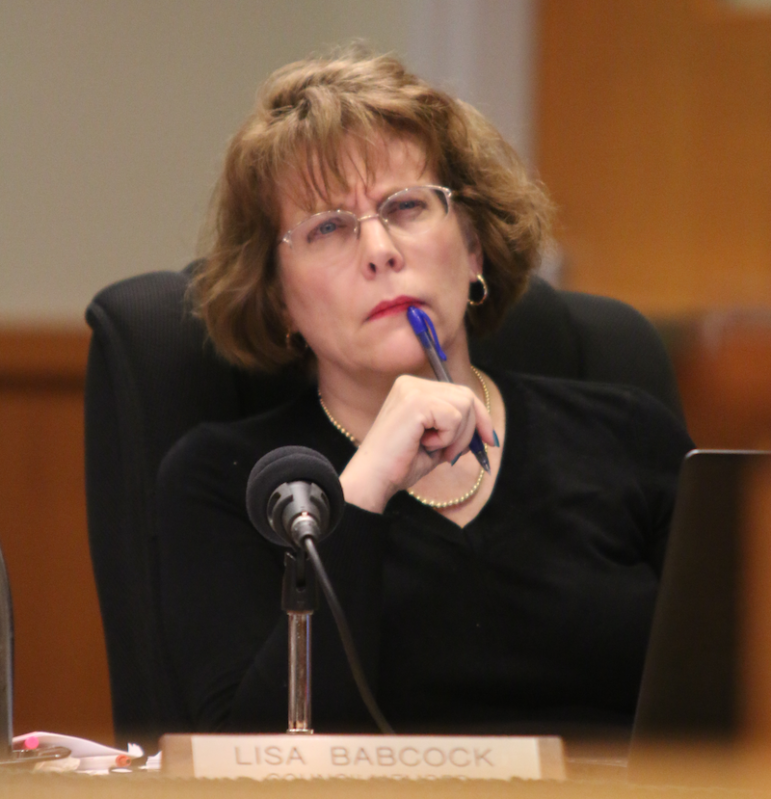 The Human Rights Commission meets on Monday, Nov. 14 (see agenda). On Wednesday, Nov. 16, the Library Board of Trustees meets (agenda here) as does the Parks & Rec Advisory Commission (agenda here). Parks & Rec will be discussing the Valley Court Park project. Arts Commission meets on Thursday, Nov. 17 (agenda here), and the Historic District Commission will have a work session on the same day (agenda here).
On Thursday, the Downtown Development Authority is meeting, as is the Brownfield Redevelopment Authority, which has the same membership. Those agendas are not yet up, but staff are expected to present ideas for how to deal with the continued problem of the bonds on the DDA's Evergreen Avenue properties. Costs on those bonds are due to rachet up, requiring more tax money to meet the payments due.
An update from ELi on fundraising:
Our fundraising team is working hard now on our Annual Campaign to keep this local news public service operational. Our goal is $175,000, our current annual operating budget.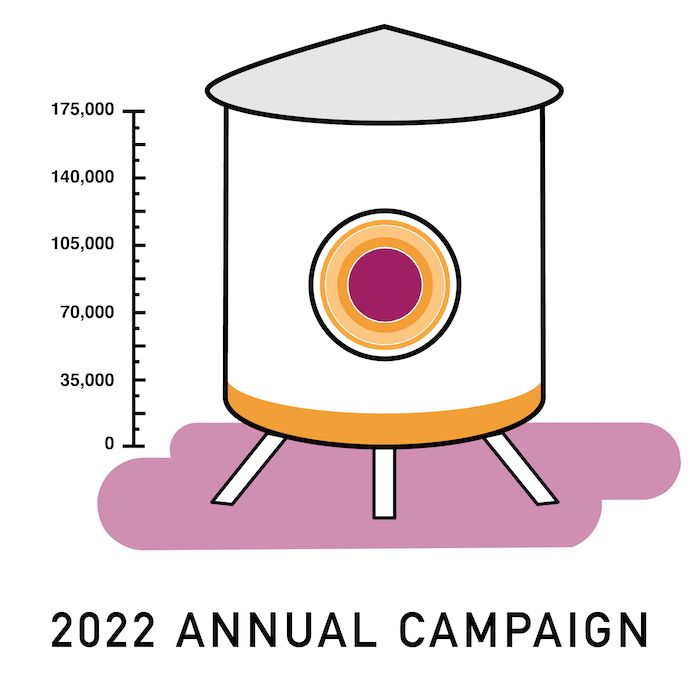 You can help right now with a tax-deductible contribution to our work. Thanks to local and national funders, we have matching funds to double your gift! Help us keep this news coming. No one else addresses East Lansing's news needs the way the ELi team does. We care and we take care.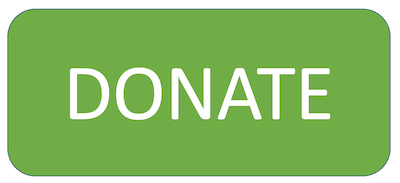 When you give, know that about 85% of what you donate will go to employ a local person to help keep this city factually informed with meaningful local news.
Thank you!