Good morning, East Lansing!
Grab your hot beverage and catch up quickly on EL news.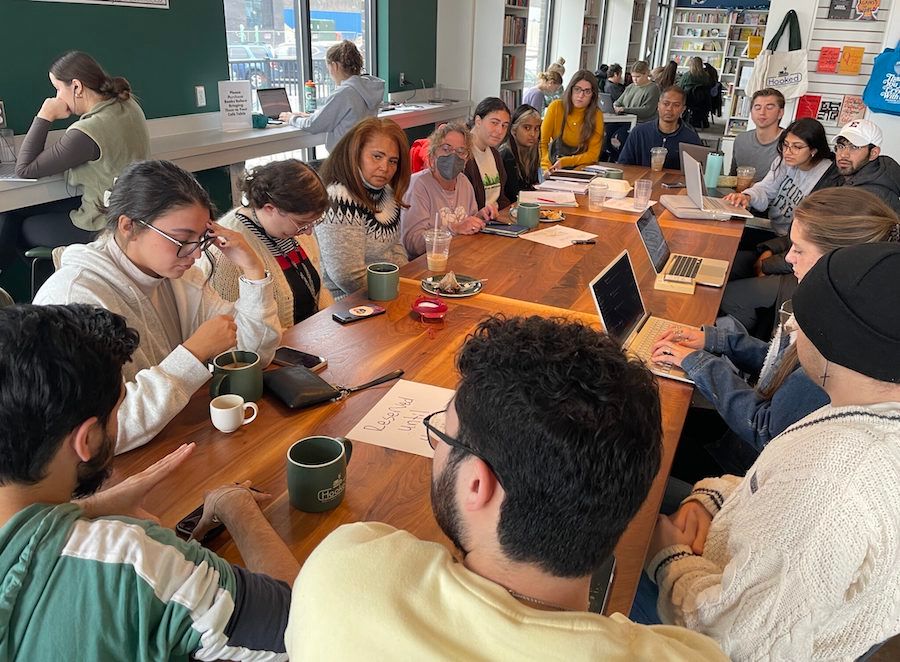 The weather forecast is calling for another day of blowing snow. Need a pick-me-up event with some cheerful people? The Alternative Holiday Sale continues today from 9 a.m. to 5 p.m. at Edgewood United Church (read more).
Now on to the news:
After months of closed-session talks, Council released its evaluation of City Manager George Lahanas this week. What did that evaluation tell us about Council's views of the top government executive and about the city's health? Read on.
It was an action-packed evening at City Council this Tuesday, as Alice Dreger reported or ELi. Lisa Babcock was absent for COVID but the remaining four members discussed how to go about choosing an appointee to replace Babcock when she takes up her new role as judge of 54B District Court come the new year. Council is going to solicit applications so, if you're interested, keep an eye on ELi as plans emerge.
Council also heard from city staff this week about what they want to see built in terms of new housing on 27 vacant acres in the northern tier. Find out what they're recommending.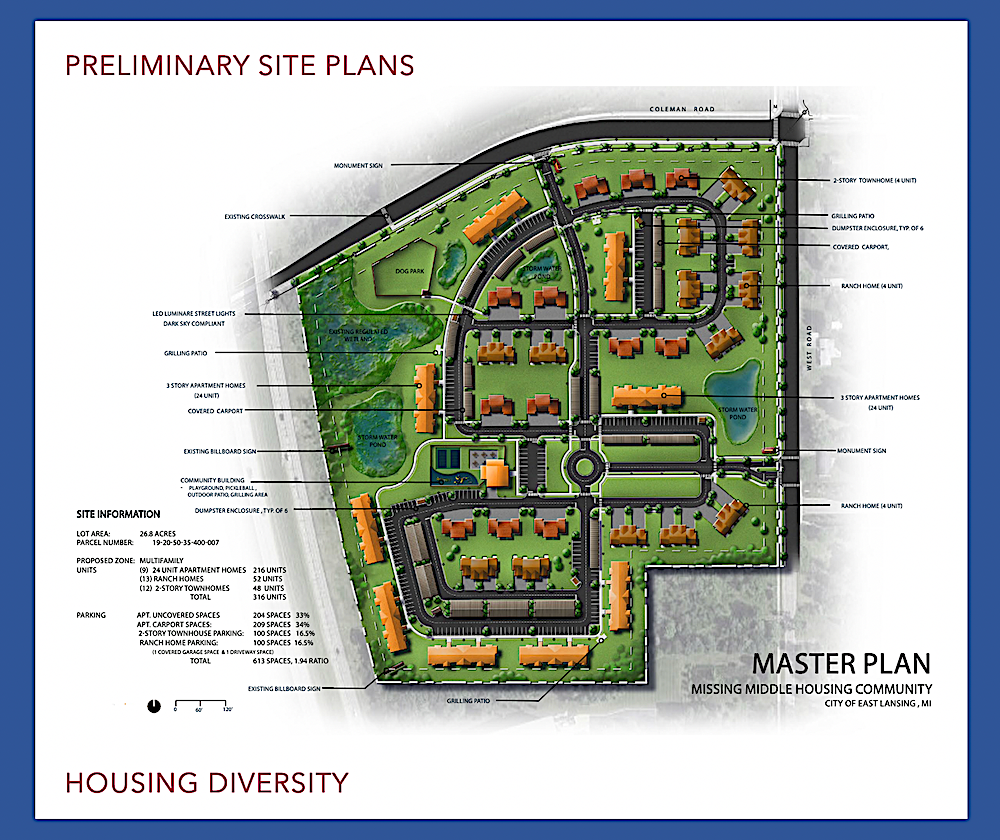 Planning and Zoning Administrator Peter Menser briefed Council on how local laws can be changed to allow Accessory Dwelling Units (ADUs) to be built on East Lansing lots containing single-family homes. Learn more from ELi about what ideas Menser brought forth to increase housing options without disrupting residential neighborhoods.
In one of the hotter moments on Tuesday, Council split 2-2 on the question of whether to relieve restaurants of certain late fees related to local licensing requirements. While Councilmember George Brookover saw local businesses as harmed by confusing governmental communications, Mayor Ron Bacon said missing the deadlines was "lazy." Read on.
Council voted 4-0 to put up $20,000 to fund the next phase of the Artspace feasibility studies. Two days later, the DDA voted to put up the remaining $15,000 required by ArtSpace for the Phase 2 study of affordable live-work space for artists.
But the vote at the DDA included three nays. Voting against, Jeff Smith said he doesn't see new Artspace construction as financially feasible and said there's no good existing City-owned space to rehabilitate for this kind of project. But, with the funds now secured, the Phase 2 study will proceed.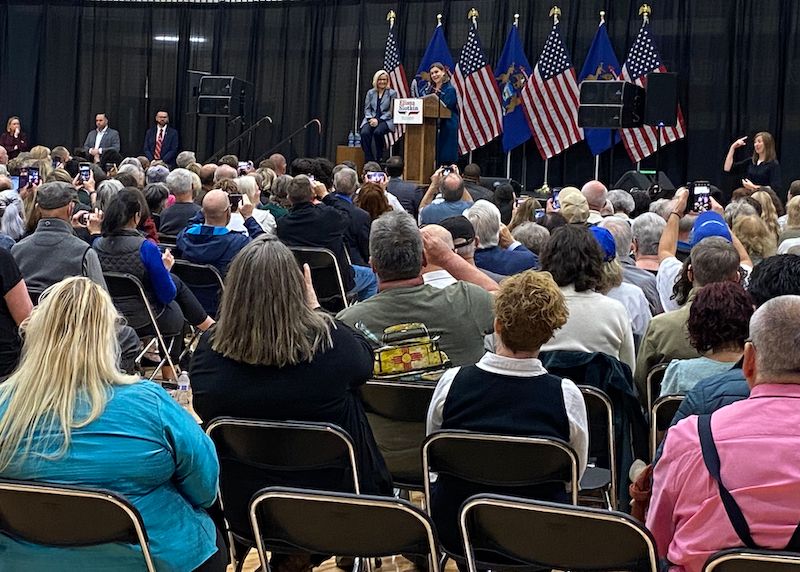 The Nov. 8 election had East Lansing and MSU firmly in the national spotlight. We bring you a report on that from Heather Brothers and Luke Day, including news about the unusual event held in the ELHS gym joining forces across the political aisle as Rep. Liz Cheney stumped for Rep. Elissa Slotkin. We also report on the long waits faced on Election Day by students registering to vote on the last possible day.
Will East Lansing become a sanctuary city? A group of MSU students and East Lansing's Human Rights Commission hope so. Find out more from ELi's Dustin DuFort Petty about their motivation and where their idea goes from here.
Have you seen the colorful new mural on the East Lansing Public Library and wondered what it's about? Sarah Spohn brings ELi readers the backstory in this special report.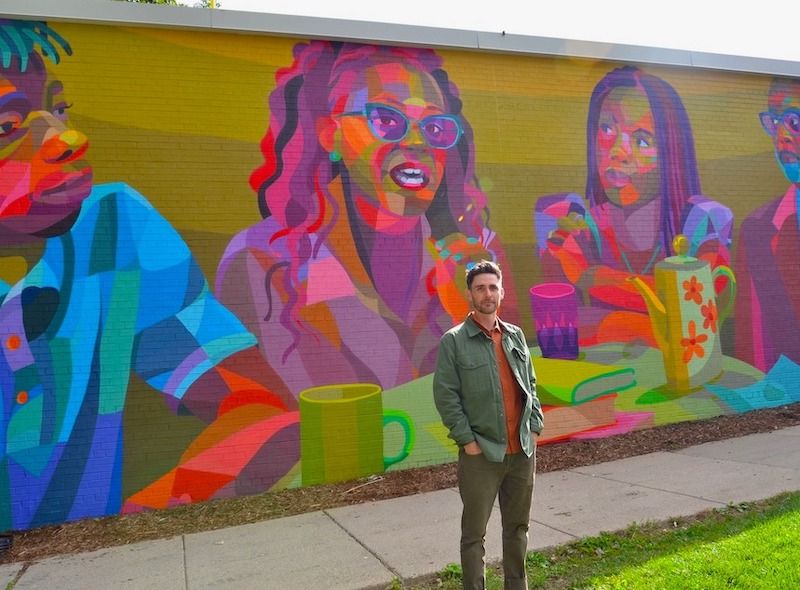 Plans for the renovation of Valley Court Park remain in flux as city staff and the designers continue to consult with folks around town about what they want to see. Read ELi's report about what happened with Planning Commission and the Historic District Commission's discussions on the matter.
What's coming up?
There are just two city meetings this week due to Thanksgiving: The Commission on the Environment meets on Monday (agenda here) and the University Student Commission on Tuesday (agenda here). Also on Monday, the ELPS Policy Committee meeting will meet starting at 3 p.m. in the high school's Board of Education Room (agenda here).
Today (Saturday), a poetry workshop entitled "Living Nations, Living Words" will be facilitated by Gordon Henry, Jr. at 4 PM  at the Nokomis Learning Center, located at 5163 Marsh Road, Okemos. The event is free and open to all.
Tomorrow (Sunday) at 4 p.m. head over to the University United Methodist Church (1120 S. Harrison Rd.) for "We Are the Wind: Native American Poetry" featuring Native poets Gordon Henry, Jr., and Mark Turcotte. (Free and open.)
Here's a quick update on our annual campaign
ELi is raising funds to keep this community-centric public news service going in 2023. This is the time of year where we collect donations to make sure we have enough in the ELi nonprofit "water tower" to put out "news fires" all year round.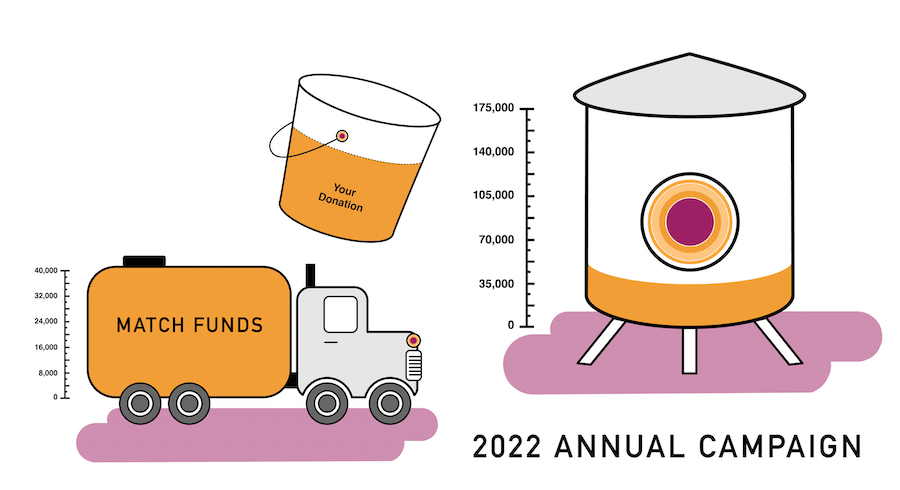 Right now, we have raised about $38,000 towards our projected 2023 budget of $175,000. We have about $40,000 remaining in MATCHING FUNDS. Give now through a tax deductible donation and we can fill up our water tower twice as fast! Here are all the ways to donate.
Thank you!