Join ELi for a Movie Night at the Robin Theatre
"Vengeance" is an interesting, funny story built around investigative journalism.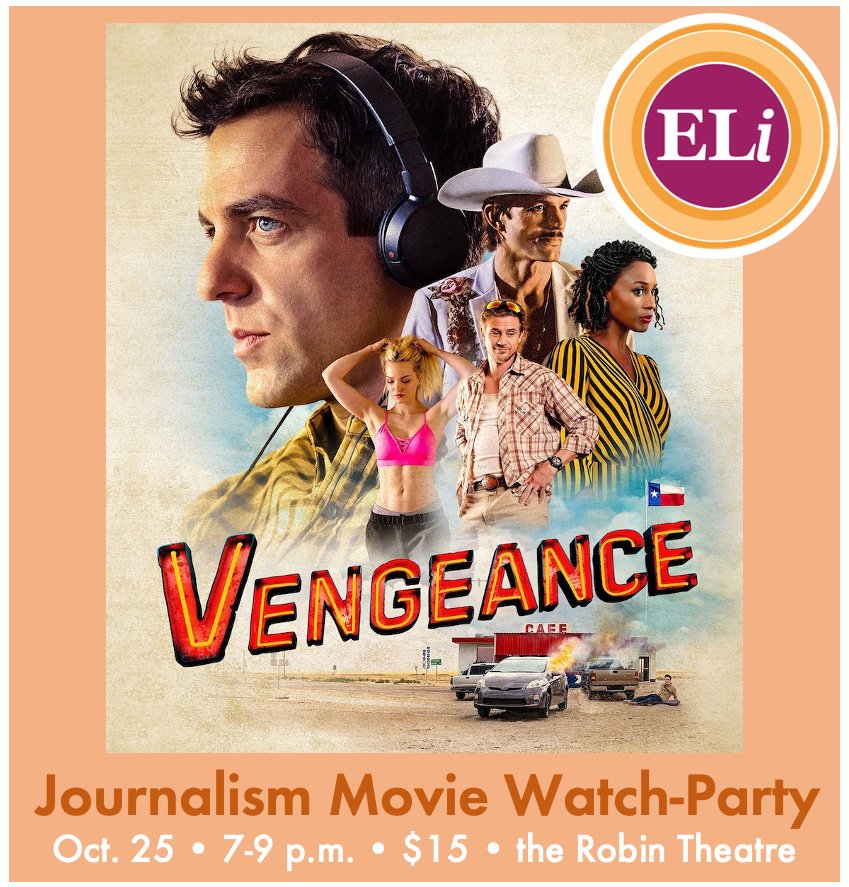 Dear ELi Reader -
We are gearing up to kick off our Sustainability Campaign to fund East Lansing Info for our next year of providing East Lansing with free, local, non-partisan, accurate news and information.
Our campaign officially begins with the month of November. Since we are about a week away from our start date, we are starting the campaign with a community-centered event. This feels appropriate because we are a community-centered non-profit run, funded and read by local citizens.
Additionally, I would love to meet you! I have been Executive Director and Publisher of ELi since May 2023 and I want to thank you personally for the support you have generously shown ELi over the years. So, please join us at the Robin Theatre this Wednesday (Oct. 25) evening!
Join ELi for a Movie Night at the Robin Theater
We are screening the 2022 film "Vengeance" on Wednesday starting at 7 p.m. at the Robin Theatre. I'd love for you to come early or stick around after to ask questions or just say hi!
The Robin Theatre is an intimate listening room and alternative performance art venue at 1105 S. Washington Ave., Lansing. The space is perfect for a community gathering and for chatting before and after the event.
Tickets are $15, but additional donations are welcome so we can start our Sustainability Campaign off on strong footing. Tickets are currently available online.
This is the second journalism movie event hosted by ELi. The first one, which sold out, was last April and featured the showing of "Storm Lake," along with an engaging follow-up discussion about community news coverage.
Sticking with the theme that is, obviously, important to ELi, "Vengeance" tells the story of an investigative journalist who travels from New York City to Texas to investigate the death of a woman who he "hooked up" with.
"Vengeance" (rated R for language and violence) is the cinematic debut of B.J. Novak, who wrote, directed and produced the movie. He also plays the lead character, Ben. Novak is known as a writer, director, producer and ensemble cast member of "The Office." Other cast members include Boyd Holbrook, Dove Cameron, Lio Tipton, Ashton Kutcher and John Mayer.
Again, I hope you can make it and even bring a friend so they too can get to know East Lansing Info.
Beth Peck, ELi Executive Director and Publisher