What's happening in East Lansing?
Hot off the presses, East Lansing news!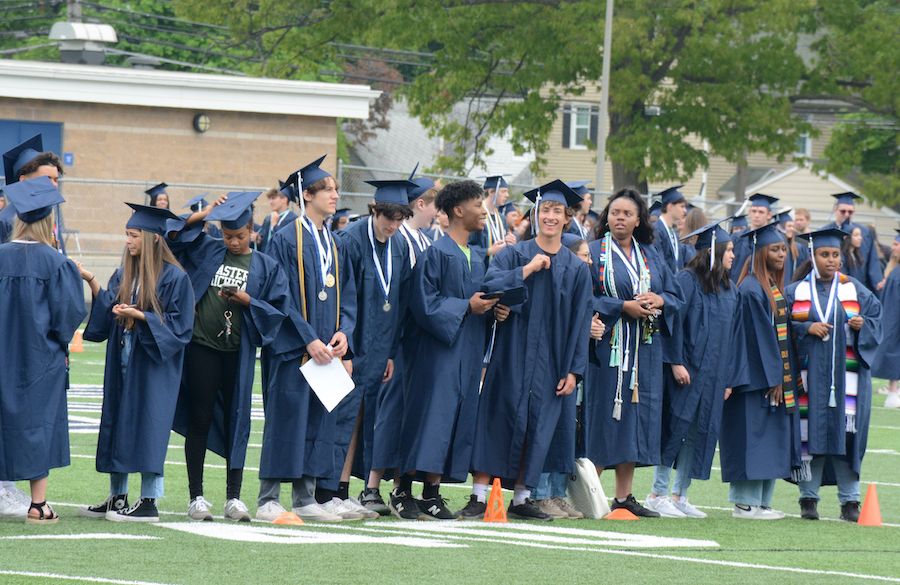 The City of East Lansing's workforce turmoil continues, with Assistant to the City Manager Nicole Mosteller now departing the city's employ along with Taylor Van Winkle from the Planning Department.
The Planning Department – which is one of five divisions within the Department of Planning, Building & Development – is now down to one person, an administrative secretary. ELi has learned Interim Director of Planning, Building & Development Tim Dempsey has contracted with external consultant Lynée Wells of Aligned Planning to keep the department functioning.
This coming Tuesday's Council agenda (June 6) is showing a related surprise item: consideration of spending up to $1.275 million of American Rescue Plan Act (ARPA) funds for retention pay to city employees.
Council is also set to take up the question Tuesday of whether to extend the hours for a new Starbucks location coming to Trowbridge Road. Read ELi's report from Lucas Day about that controversial request.
Meanwhile, as the Michigan State University Federal Credit Union (MSUFCU) prepares to open its new office building and branch downtown, city staff are "working with them to figure out the parking situation for their employees," according to a staff memo.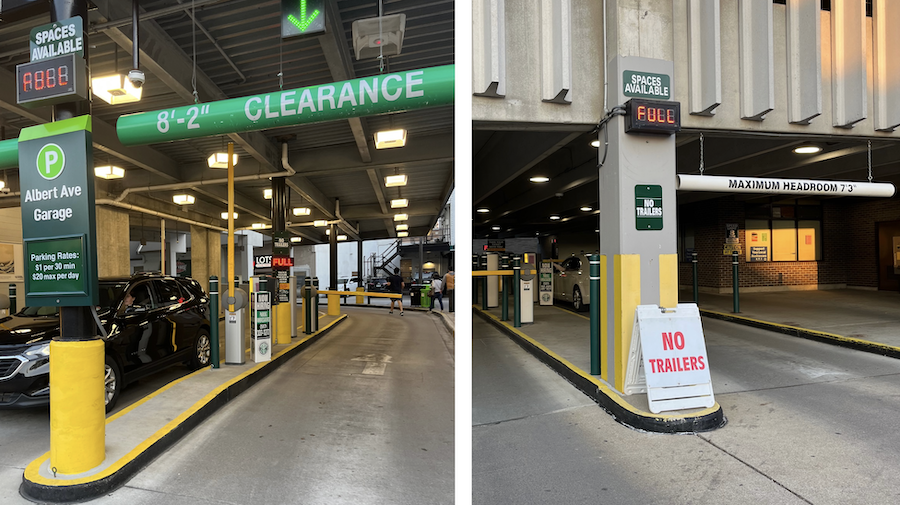 "At this time, it is likely that the [MSUFCU] employees will need to be split over multiple garages," staff wrote in the budget-related memo to City Council. "The City has moved some City employees from the Grove Street garage into the M.A.C Street garage with the requirement for most new [city] employees to have to park in the M.A.C. garage. These additional spaces should allow for more availability in Grove Street garage."
A chart released by the city in conjunction with the budget talks indicates the city's parking system is still way below 100% occupancy, even as the Albert Avenue and Grove Street ramps sometimes fill up. It's the Division Street ramp (the "colorful parking structure"), the M.A.C. ramp (under the Marriott Hotel) and the Charles Street ramp (behind CVS) that are suffering low occupancies, dragging the system's economics down.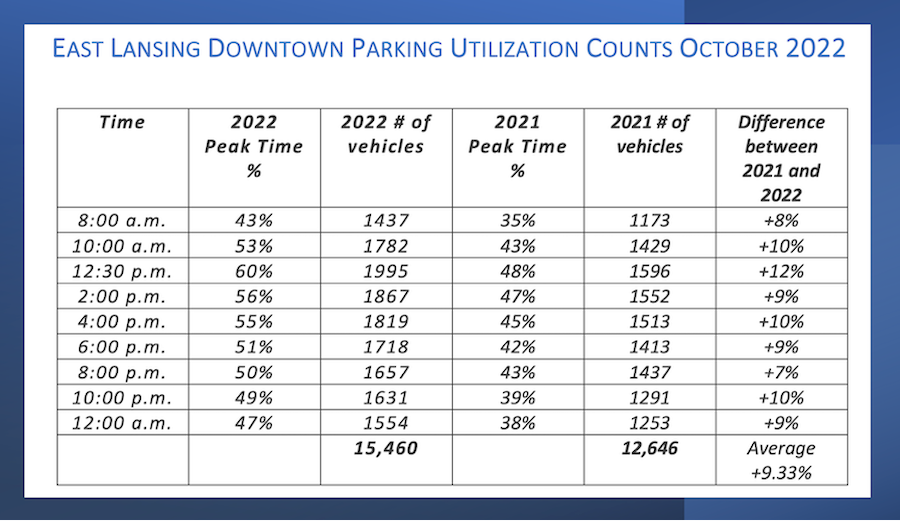 Heads up: construction work on Burcham Drive starts Monday.
Here's what ELi published since last Saturday's East Lansing Insider newsletter:
A Freedom of Information Act (FOIA) request has turned up a surprising letter from Mayor Ron Bacon regarding the affordable-housing apartment building a Detroit-based developer is looking to construct on what is now a downtown parking lot. Alice reports the letter raises new questions about whether Bacon is overreaching in his office. This article also relays what the developer has to say about how the project would restrict who can rent there. See it all here.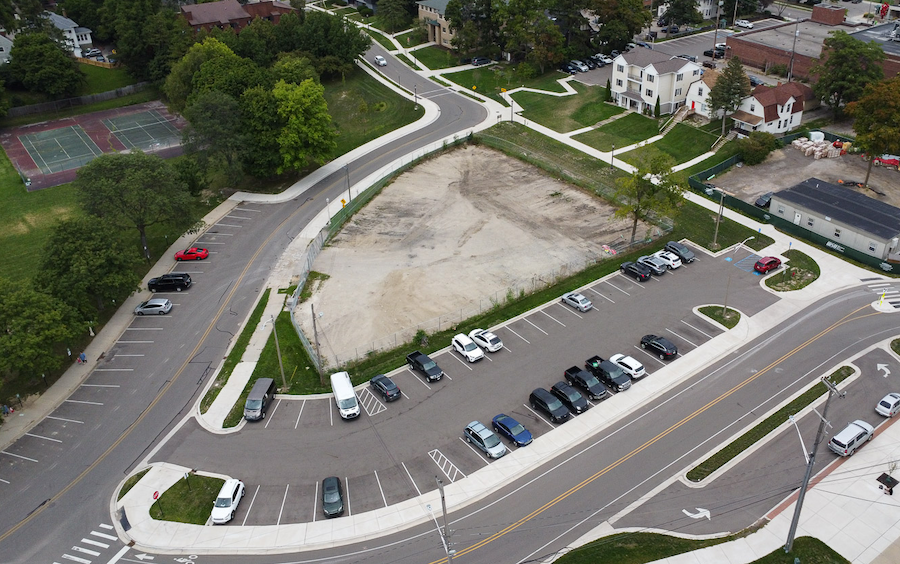 Council is being asked to take up the question about what to do with the parcel at 341 Evergreen Ave., near Valley Court Park, that was supposed to be the home to "Building C," an affordable apartment building for people earning 80% or less than the Area Median Income (AMI).
ELi's Dustin DuFort Petty reported along with Alice reported this week that Council's choice is this: (1) Try to get Building C constructed by PK, local specialists who know how to get this kind of housing done, and risk having to buy the land from PK for a significant sum later or have it sold to someone else. Or (2), stick with the 2018 deal with Chicago-based developer Convexity and get either a hastily-built Building C or free parkland that can never be redeveloped. Read all about it.
Dustin also reported for us this week that Hagan Realty is asking to rezone the north end of Grove Street to allow for denser residential redevelopment. Right now, the properties contain older single-family houses and a fraternity. The new zoning would allow for modern townhouse-style units. All Saints Church, just to the north, is supporting the request, but homeowners to the south are opposed. Read on.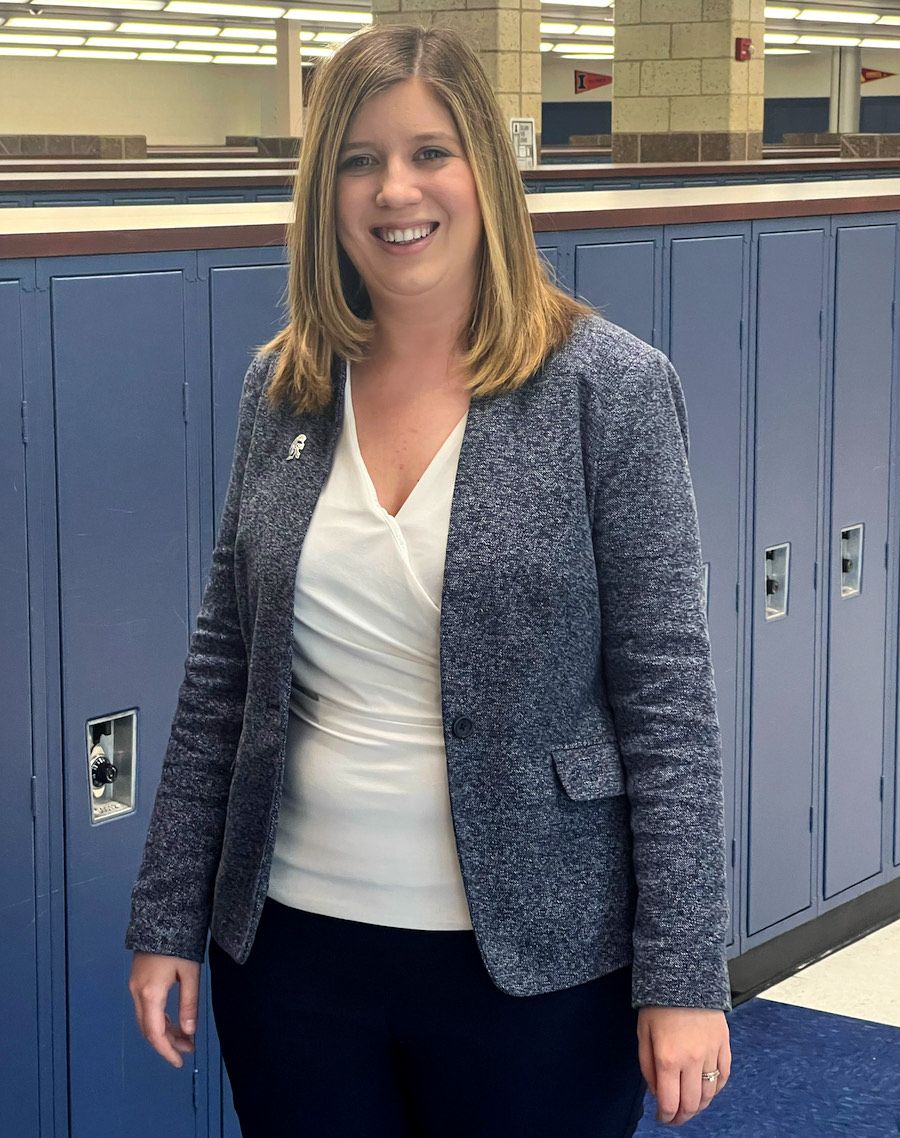 Dustin also brought us a profile of Ashley Schwarzbek, recently named principal of East Lansing High School. "I'm still very much a teacher at heart," Schwarzbek told ELi. "I also love to see and experience what's happening in our classrooms." Read the whole piece.

And ELi's Mya Gregory contributed the story of the eleven East Lansing High School track and field athletes who will compete in the state finals today at Rockford High School. "It's just how you manage that adversity and how you can overcome those obstacles so you can have success towards the end of the season, when it counts," Coach Octavis Long says. "That's exactly what our boys and girls teams have done this year, facing that adversity earlier in the season, but bouncing back to have a great, successful season." Check it out.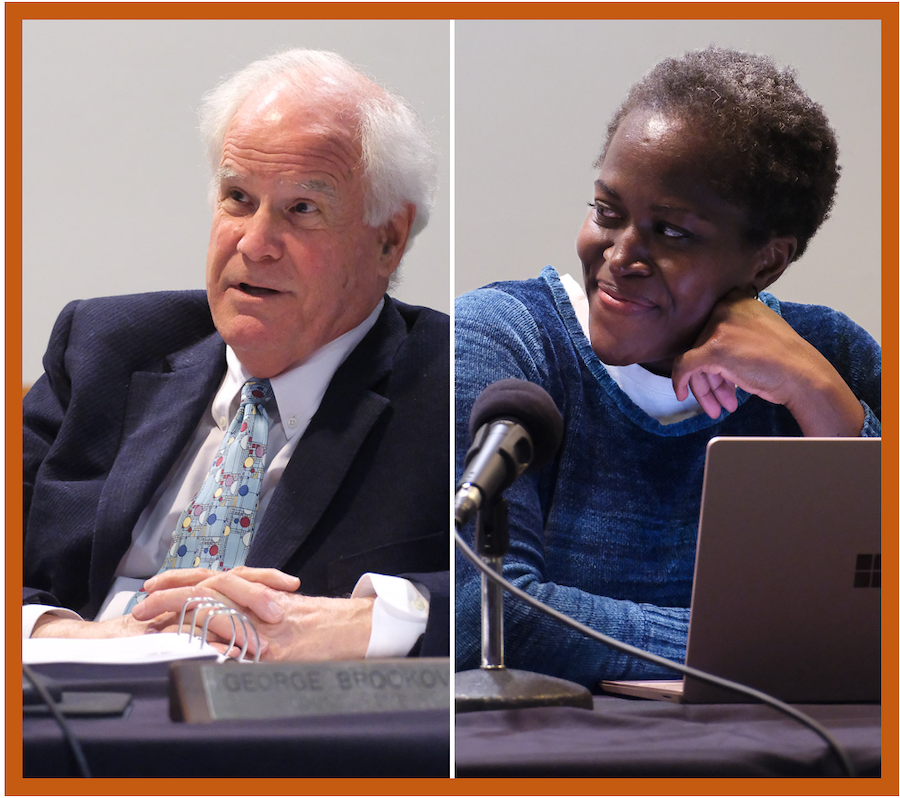 Finally, Alice reported this week that, responding to questions from ELi about whether they will be running for reelection to their Council seats this November, East Lansing Mayor Ron Bacon and Mayor Pro Tem Jessy Gregg each said they are "undecided," while appointee Noel Garcia says he will be running to keep his seat. What does Council do, what does it pay and how can you put your name on the ballot? Find out.
Just a reminder that if you sign up to be an East Lansing Insider Member at $10 per month or $100 per year, you support ELi's work financially AND you get ELi's news faster than the general public.  Learn more here. And, if you're already an East Lansing Insider member, thank you!
What's going on that's cool?
Figuratively speaking, there's the ever-cool Pumpstock Music Festival today from 2 to 8 p.m. in Bailey park, bringing American Roots Music right here to East Lansing. It's free and you're welcome to bring chairs, a blanket and sun shades. Besides great music, you can take advantage of food trucks, children's art activities and a clown handing out glitter tattoos. There will also be an Instrument Petting Zoo. Learn more.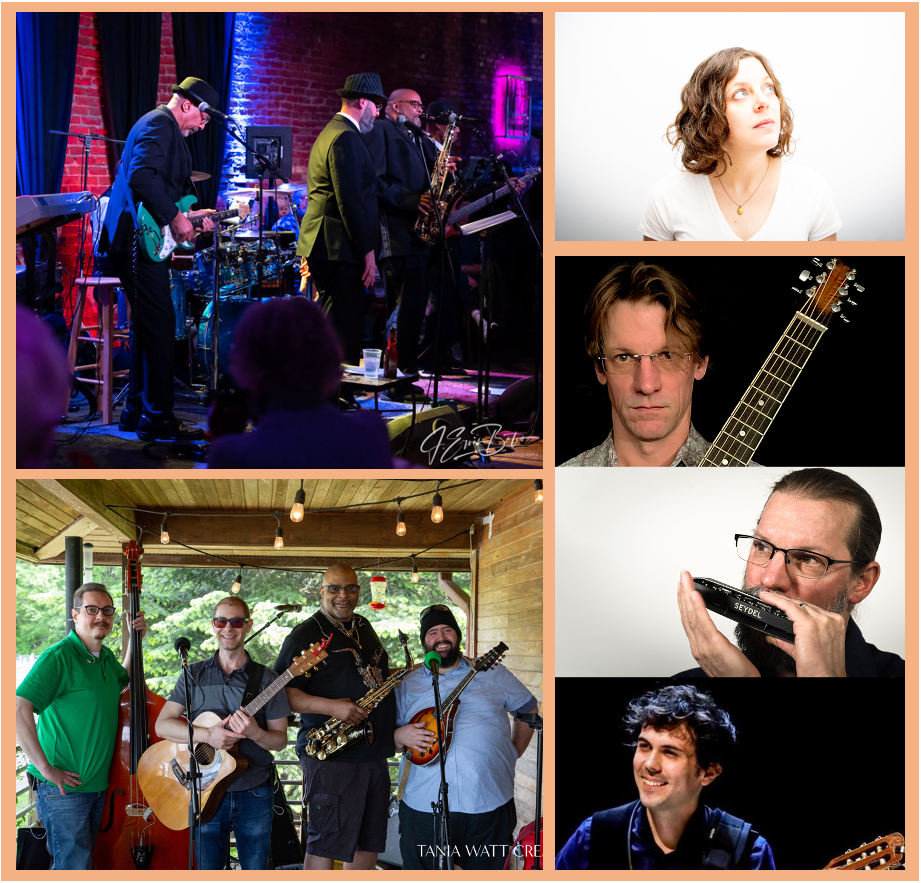 If you need some literal indoor cool, you could check out Knowing Nature: Stories of the Boreal Forest at the Michigan State University Museum on Circle Drive. This traveling Smithsonian exhibit is premiering at MSU and focuses on the biodiversity and global importance of our northern-most forests through first-person stories, commissioned objects, interactive experiences, photography and videography. Learn more from the Smithsonian.
The East Lansing Public Library will host a teen Pride Prom on Tuesday, June 6, from 6-8 p.m. The event will include food, games, music, a photo booth and more. Area youth are encouraged to "dress up in your prom finery, or wear whatever is most comfortable." Check out the event page here.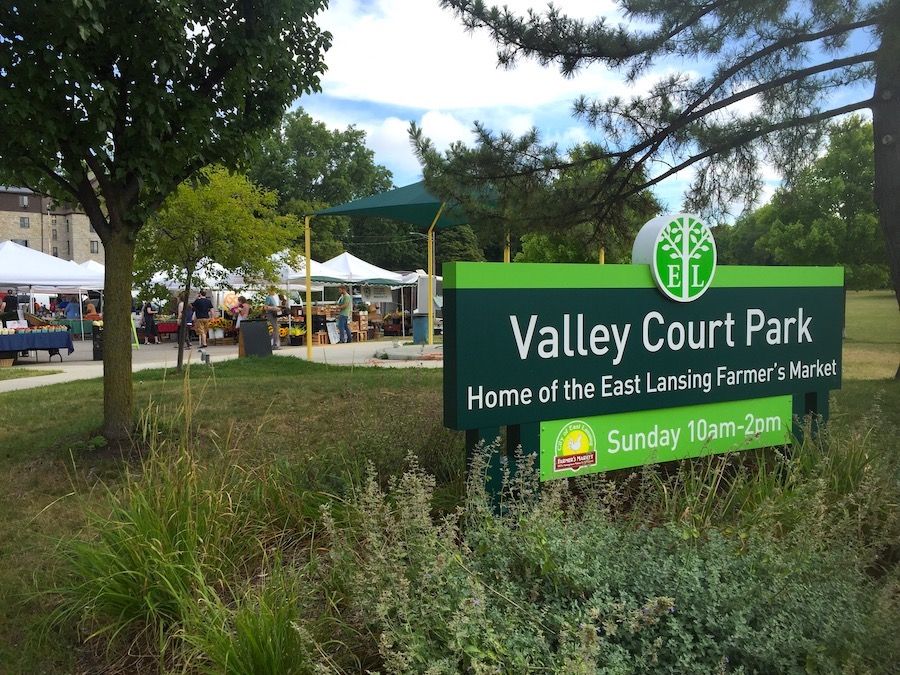 Don't forget, East Lansing's Family Aquatic Center opens today (learn more) and the East Lansing Farmers Market starts back up tomorrow (learn more). If past years are any guess, farmers market vendors are likely to be offering rhubarb, garlic scapes, fresh bread and fish, and so much more. And kids are likely to be squealing in delight at the aquatic center's water slides.
Have something you'd like included in ELi's weekly Insider newsletter? Let us know!
---