East Lansing and Meridian "Conserve Water" Request Continues as Some Details Emerge
The emergency contractor "hopes to have the repair completed today."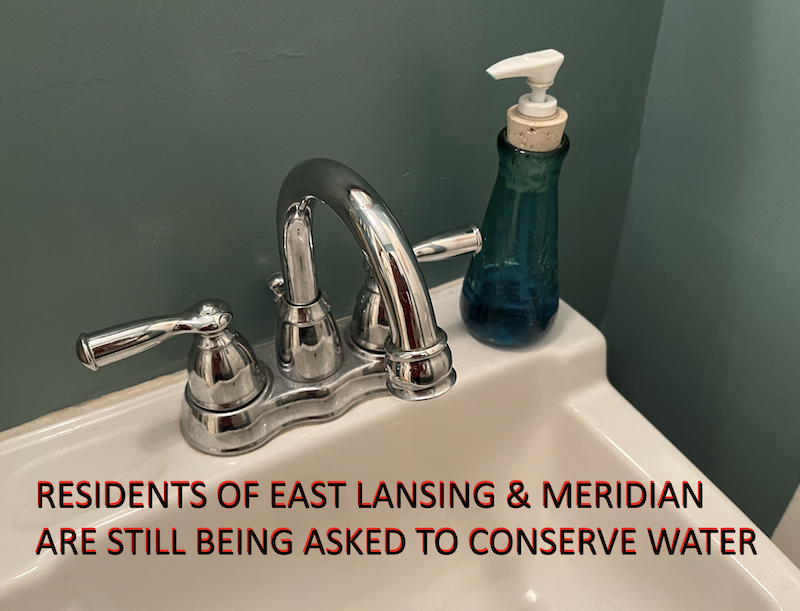 By Alice Dreger
[UPDATE, Jan. 12, 3 p.m.: The emergency has ended; see update.]
People in East Lansing and Meridian Township who get their water from the East Lansing-Meridian Water and Sewer Authority (ELMWSA) are still being asked to conserve water as much as possible, according to a new press release issued by the City of East Lansing on Thursday, Jan. 12, just before noon.
Water continues to be safe to drink and use for cooking and bathing. But customers of ELMWSA are being asked to take short showers, no baths, put off doing the dishes and laundry, and to refrain from any other possible use of larger amounts of water.
According to the press release, the problem is being caused by "accidental damage that occurred to one of the main water transmission lines during construction on Tuesday, January 10."
Until the system is repaired, ELMWSA cannot treat the water it generates. This is why, for the time being, safe drinking water is being supplied to ELMWSA customers by the Lansing Board of Water & Light. (You don't need to do anything to make sure you are getting the right water supply. Safe water is coming out of the taps.)
A contractor has been brought in to make emergency repairs.
"The contractor arrived at 3 a.m. on Jan. 11 and worked throughout the day to prepare for the repair," according to the release. "The contractor resumed work on this repair at 5 a.m. this morning, Jan. 12, and hopes to have the repair completed today. Once the repair is complete, the conserve water notice will be lifted. Another update will be issued within 24 hours."
Until the lines are repaired, water supply is limited much more than usual. Customers are being asked to conserve water to avoid pressure losses to the water delivery system.
City and plant officials have not yet said how exactly the break in the water main occurred and what it will cost to repair.