It's been a hard week of hard reporting.
Here's an honest account of what happened at ELi this week.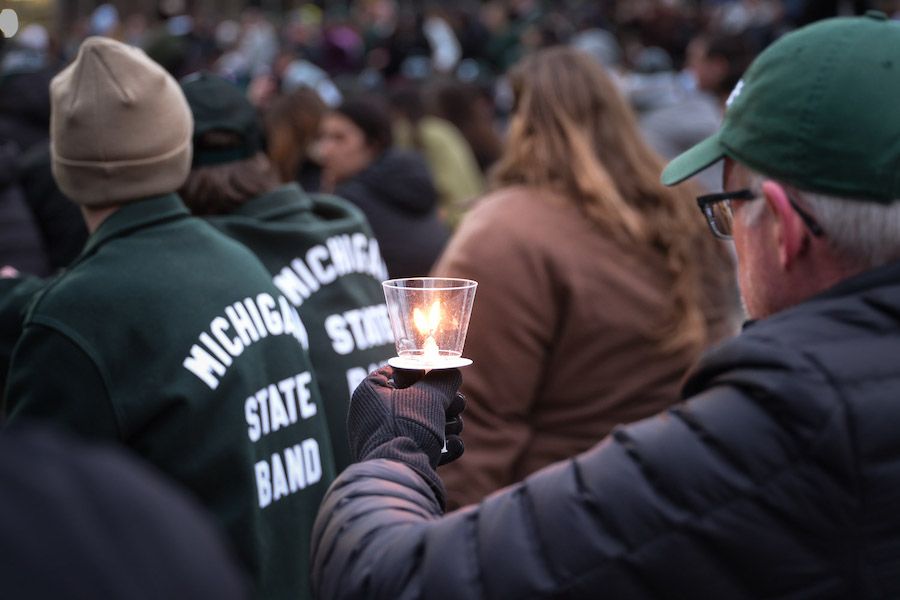 By Alice Dreger, ELi's Publisher
When we sent out the East Lansing Insider newsletter last Saturday, we expected this would be a tough week for this local nonprofit news service.
ELi's reporting team was facing a full schedule of meetings, including school board (with a new president) and city council (with a new city manager). By Sunday, our Managing Editor Julie Seraphinoff had given everyone their assignments. On Monday night, Dustin DuFort Petty would cover East Lansing's Human Rights Commission, and I would cover the school board.
You know what happened next. Here's a snapshot from my phone.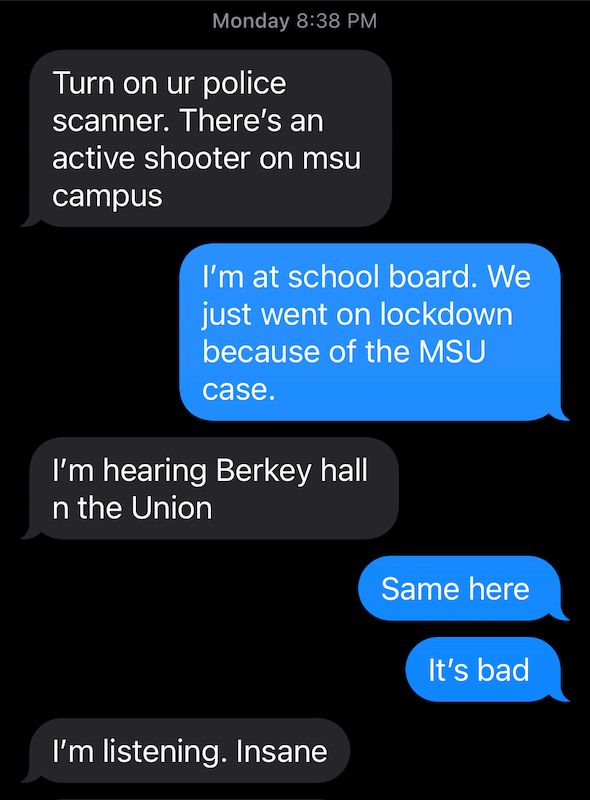 As the school board meeting was suspended in the high school auditorium, with live reports from the scanners coming through people's phones set to speaker mode, I double-knotted my shoelaces and checked the locations of the exits. We could all hear the sirens and the choppers.
With the entire city soon under a shelter-in-place order, Julie and I started texted and then calling back and forth to make decisions about what to do. I pulled up an old ELi article to remind myself what we'd learned in an emergency drill two years ago.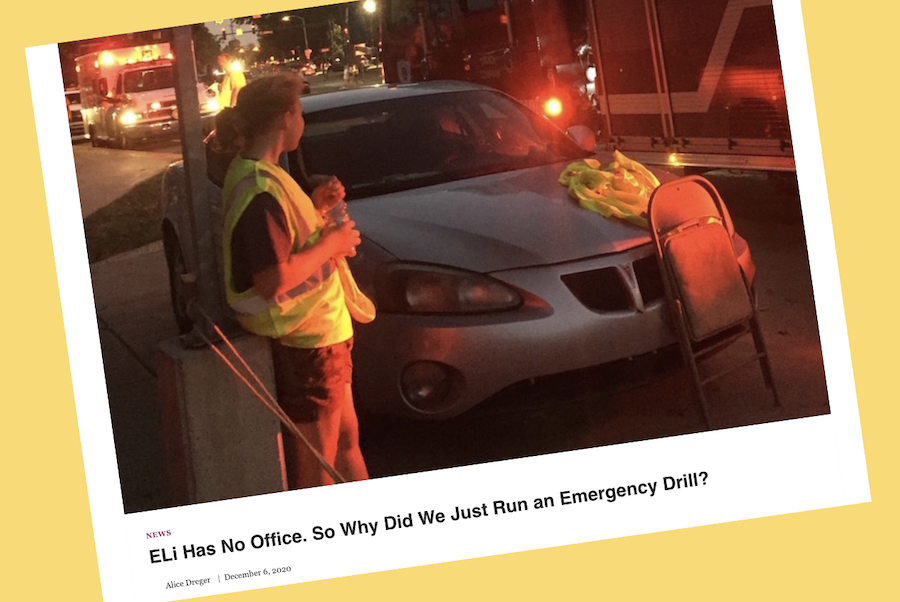 We had run the drill with East Lansing Deputy Police Chief Steve Gonzalez in part to learn what we should do as ELi reporters if there was ever a mass shooting situation on Michigan State University's campus. But on Monday, Nathan Andrus (who was just named to ELi's Board of Directors along with Karessa Weir) was the only remaining ELi team member besides me who went through that drill.
Nevertheless, as we worked together, Julie and I followed what Gonzalez had taught: We kept the ELi team out of the way of emergency personnel. We relayed emergency warnings from the police through all our available channels: the newsletter list, Twitter, Facebook and ELi's website.
We kept reminding people the city-wide shelter-in-place was still in effect, and we suggested they sign up for emergency alerts on their phones. We did not amplify unverified information from scanners and social media.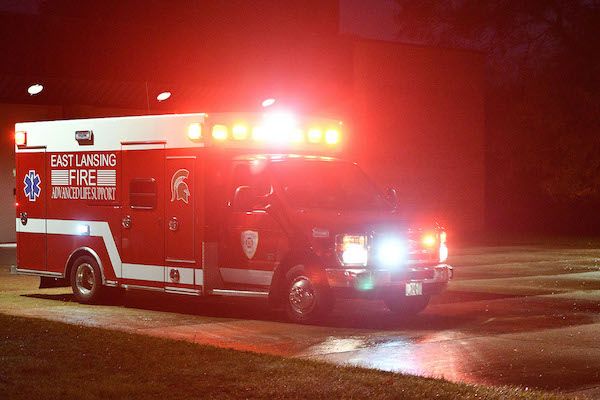 When it was over just after midnight, I stayed at the high school until Julie and I finished and published a report on what had just happened.
At about 2 a.m., the first press release came in from the City of East Lansing. It included a statement from former fire chief Randi Talifarro, who had just become interim city manager a few hours earlier. I wrote up a report on that. It seemed important to get the press release's information out quickly because it included notices of closures and opportunities for emergency psychological support. We published that at about 4 a.m. Tuesday.
Shaken and leaning on each other, Julie and I then went into triage mode, working through what each ELi team member could do. We started by asking Dylan Lees, our staff photographer, to bring us images that we could use to document visually East Lansing's shock and sadness.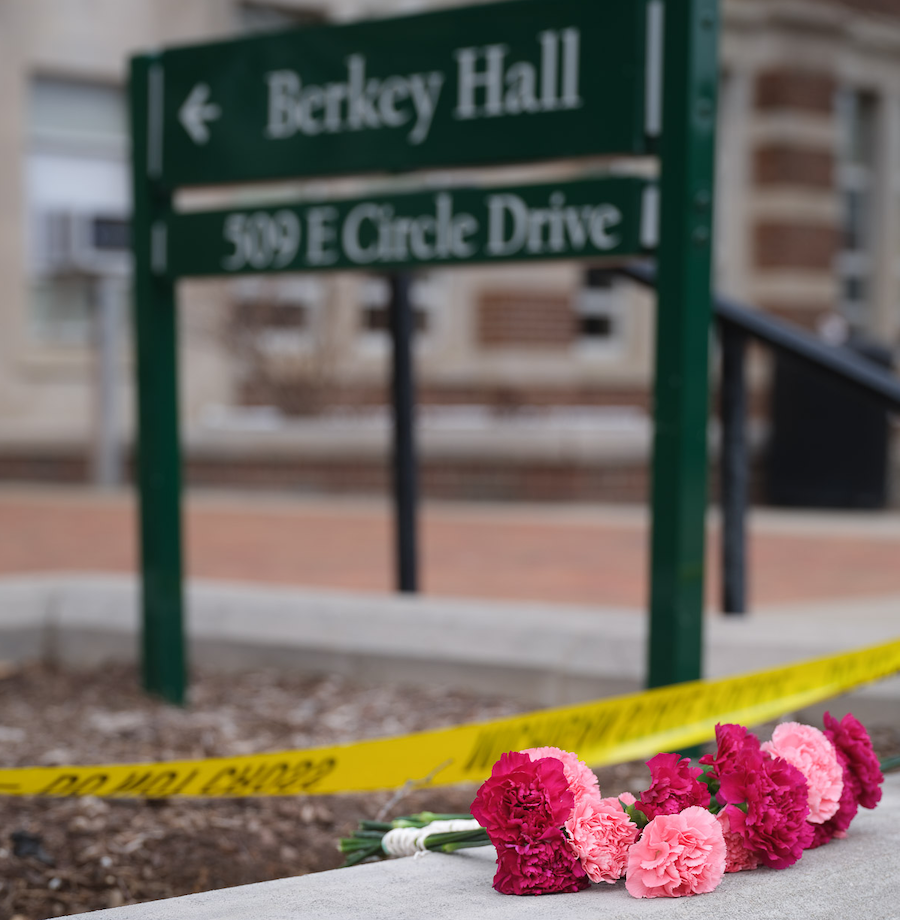 By Tuesday afternoon, ELi's Arts & Cultures reporter Sarah Spohn had quickly put together a rundown of what was available in terms of support from houses of worship, grief counseling, therapy dogs and more. She took offers from local businesses – free coffee, yoga sessions, wellness support, hotel rooms for MSU families – and added those into the report. Julie edited the story and got it out.
On Tuesday afternoon, I also took a moment to let our readership know what our approach would be during this prolonged tragedy. We would not bother to replicate what national news outlets were reporting.
"Instead," I explained, "our aim is to be here for you, the people who live here, and to provide you the information you need to get through today and tomorrow and the next days. We are working on bringing you information about closures, postponements and psychological support services. We are also working on having our reporters bring what I would call 'witnessing' – reporting that helps you feel seen and heard, reporting that recognizes that you are a member of a community in shock and in grief."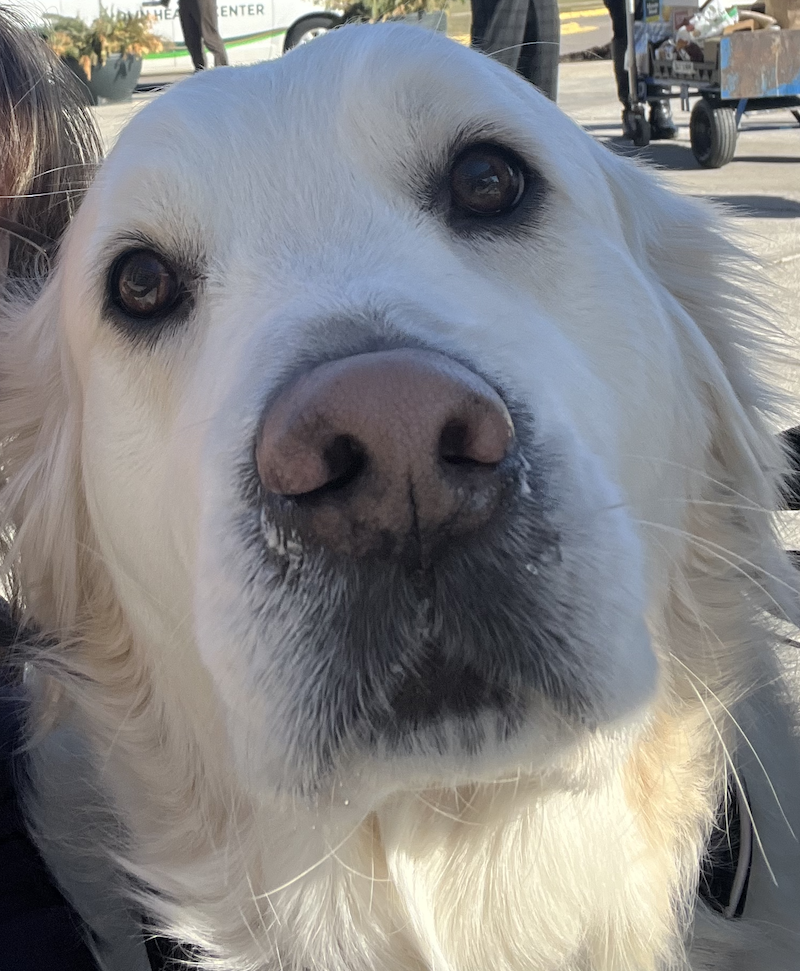 On Wednesday morning, Julie took new reporting fed in from Sarah and our City Desk Editor Lucas Day and published "Today in East Lansing: Vigils, Support Systems, Closures." That combo article included everything from the banal (trash pick-up was delayed; the property tax payment deadline was extended) to what we thought could be life-saving (emergency mental health help was still being offered at Hannah Community Center).
As we learned that all those killed and critically wounded were MSU students, we understood we needed to focus on reporting the experiences of that population, just as we would any demographic that had been disproportionately harmed by an attack.
On Wednesday, Julie published Luke's story of Matt Ritter and Cole Allen, a pair of MSU undergraduate roommates who described the terror they experienced Monday night. Hearing mention of their dorm on the scanners, Allen told Luke, "we barricaded our door with our dresser and locked our door."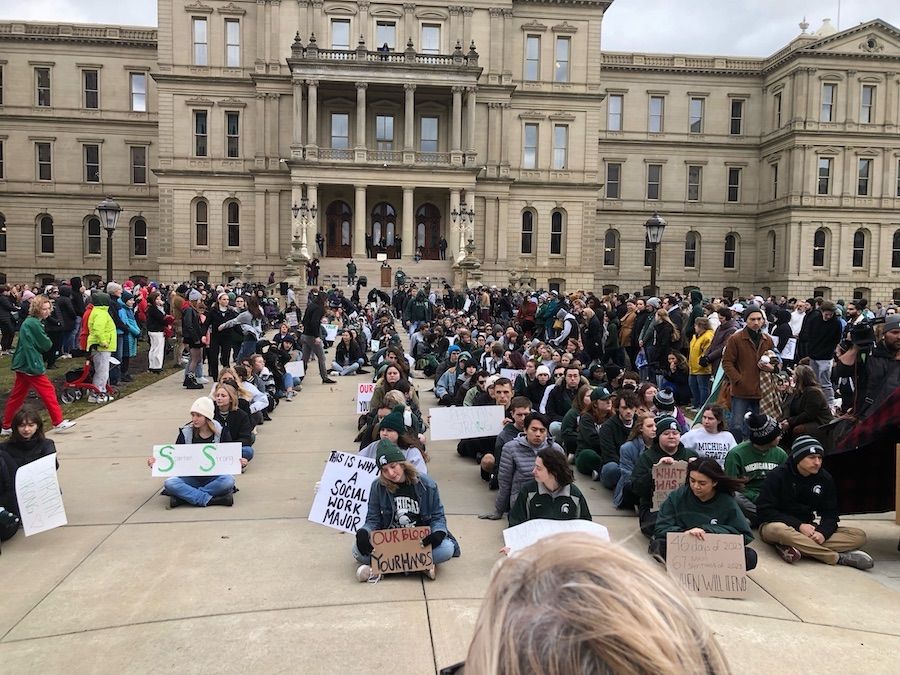 On Wednesday at noon, Luke was on reporting assignment for us at the gun control rally organized by MSU students at the Capitol (shown above)
Wednesday at 2 p.m., Julie and I talked with East Lansing firefighter/paramedic John Newman about his union's dispute with ELFD Chief Dawn Carson over when those who were on duty Monday night would be required to return to work. That became a story of how paramedics need time to recover, too. (On Facebook, ELi's story was shared widely by families of East Lansing's paramedics.)
Wednesday night, Dustin took the assignment of reporting from the vigil at The Rock, an event attended by thousands. Like many of you, many on the ELi team were there mourning the loss of three young Spartans: Arielle Anderson, a sparkling aspiring pre-med; Brian Fraser, the gregarious president of his fraternity; and Alexandria Verner, a beacon of light and love.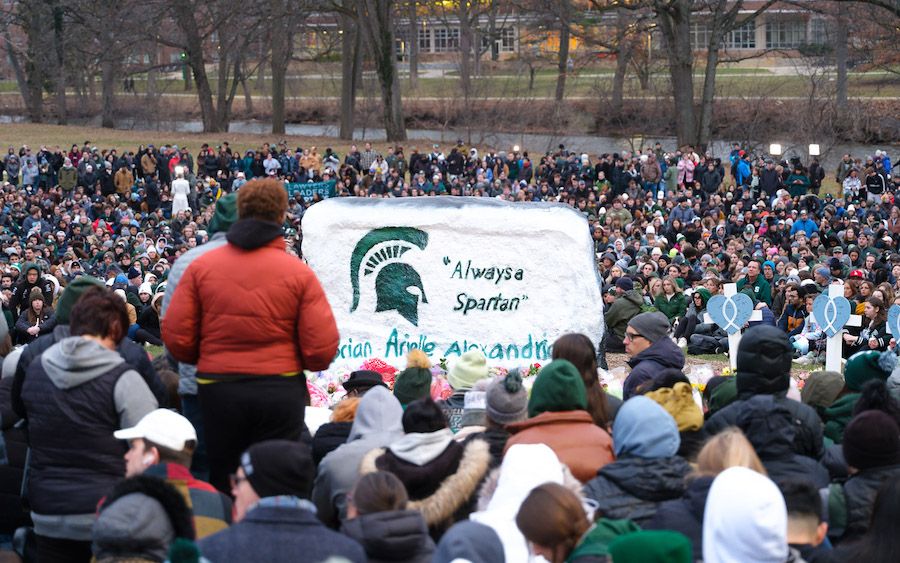 On Thursday, even as the embedded nature of our work left us tired and emotional, Julie and I had to talk about making sure we didn't stop reporting what else people in East Lansing needed to know.
So, while we pushed out the article on the "critical incident debriefing" of East Lansing's emergency service workers plus a combined report of the Capitol protest and the MSU vigil, Julie and I also worked together on providing a report out of Monday night's school board meeting.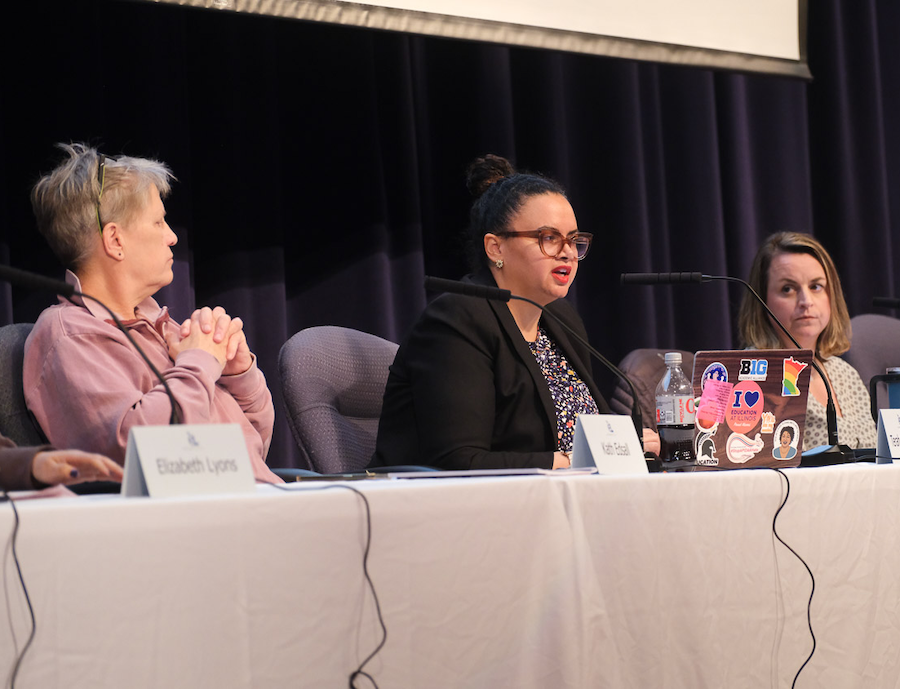 On Thursday afternoon, we published that school board meeting report. It included not just what happened at the meeting but also some follow-up with board members, including Debbie Walton, who had just resigned.
We also provided a link to a slide presentation on school safety that was supposed to be presented Monday night but wasn't because the meeting was cut short, and we added links to board policies relevant to the story. (We try to empower ELi readers through this kind of informational sourcing.)
On Friday, Julie published one more report related to the shootings, another from Dustin, again attending to the question of how people in the demographic most impacted – MSU students – were experiencing the trauma. Read that personal look here.

Also on Friday, we were asked by the school district to share how people interested in being appointed to Walton's vacated school board seat can apply. Find that information here.
Still, I think this rundown doesn't capture adequately how hard members of this team worked this week to be an informational safety net for East Lansing.
Bear with me while I express my thanks: to Dustin Lees, whose photography allowed us critical witnessing; to Luke Day, Dustin DuFort Petty and Sarah Spohn, who jumped in to provide incredibly responsible and responsive reporting; to Morgan Lees and Lisa Lees who were dealing with unpredictable problems with our website theme shift; to Jodi Spicer, our general manager, who took care of behind-the-scenes needs; to Nathan Andrus, who helped with social media monitoring when the traffic became overwhelming; and especially to Julie Seraphinoff, who performed superhuman feats of strength in keeping the news coming in the form our readers expect – accurate, informative, community-focused, readable, factual and timely.
My gratitude to all of them is enormous.
Thank you also to those of you who sent tips, corrections, contact information for interviewees and more. You are such an important part of our local news brigade.
What's coming up?
We anticipate many meetings that were canceled this week will be rescheduled soon. For city meetings and agendas, please check here. For school board meetings, please check here.
Today (Saturday, Feb. 18) at 2 p.m., Kurt Scholler will lead  a special Meditation and Mindfulness session at the Hannah Community Center. It is being described as "a free event to help people affected by the MSU shooting tragedy learn simple and calming mindfulness techniques to foster peacefulness and assist with coping."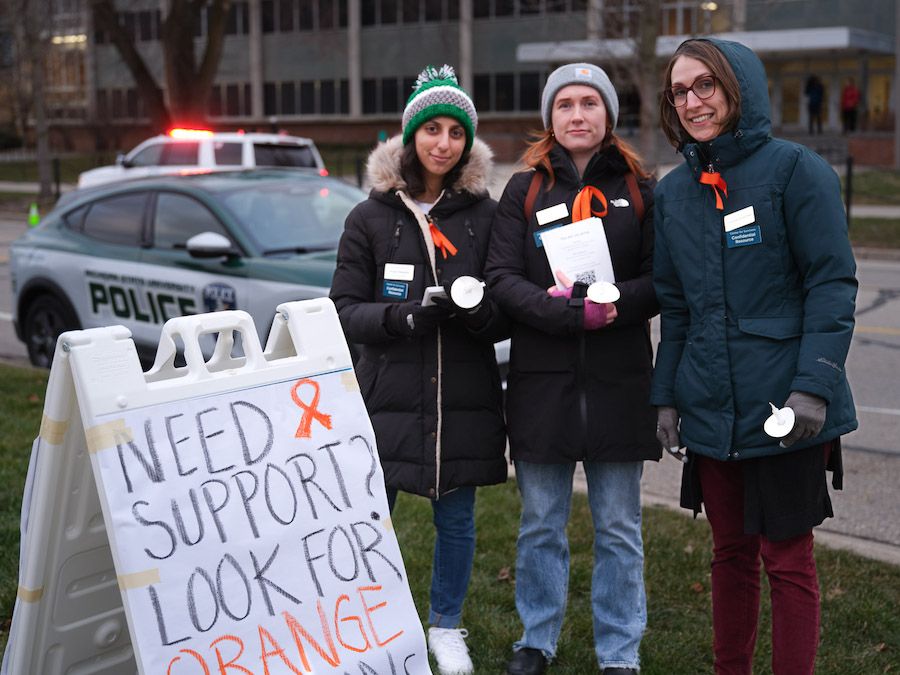 Tomorrow (Feb. 19), from 1-4 p.m., everyone is invited to "Spartan Sunday," an impromptu attempt to help students feel welcomed back home to East Lansing.
The Spartan Sunday organizers ask: "If you can, come [to campus to] hand out snacks and goodies. If you do not have the resources or means to bring items to set up a table, feel free to just show up with what you can, or just yourself, to be a friendly and welcoming face for students. All we want is to create a safe space for Spartans to gather and spread some positivity across campus."
Ideas offered: Walk the river and pick up trash. Hand out gift cards from local businesses. Pass out encouraging notes. Bring a nice dog.
When the Spartans do come back home to East Lansing, they are sure to find many literal signs of love.
Several downtown businesses have now covered windows with personalized expressions of support and solidarity.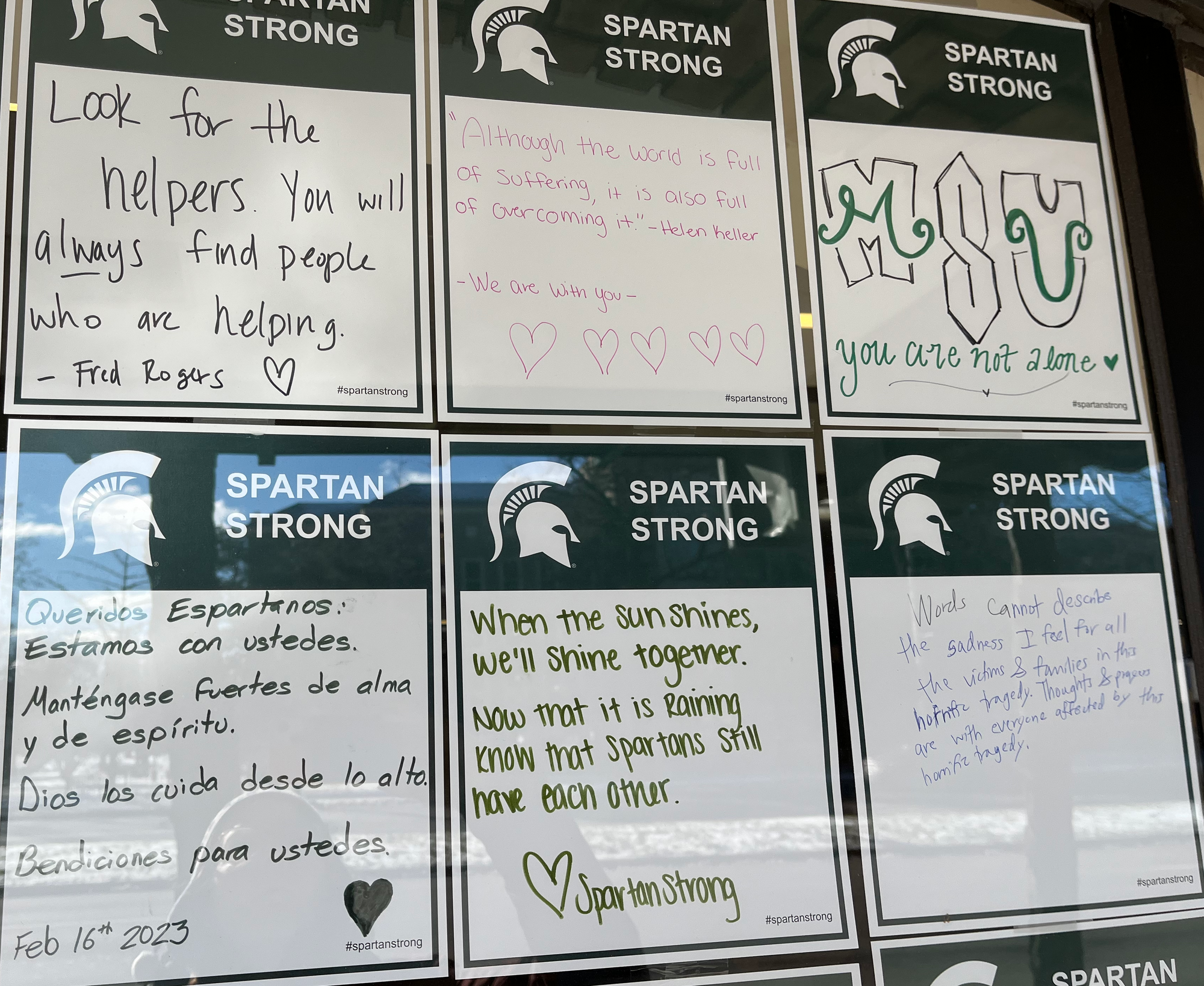 And the love will keep coming. Kerry Roberts wrote to ELi to share that the Trojan Aquatics Middle School Swim Team took time this week to make nearly 100 cards for Spartan swimmers, divers and water polo players. "Many of our Trojan swim coaches are MSU students," she wrote, "and we want them to know how much they are loved by our middle school swimmers and their families."
While Berkey Hall and the Union will be closed for a long time, most of East Lansing will be open again today. If you are in East Lansing and need to be among other people, there are many opportunities to do that. If you need solitude, the parks are open, as are the paths on campus.
Finally…
Thank you to all of you who took time this week to send notes of support and gratitude to ELi. As we received messages of worry and sympathy from our local nonprofit news colleagues all over the country, I was able to tell them that, through all the darkness, we felt the power of our community helping us to bring light.
---

You can join Crunchy's in financial support of ELi by clicking here to donate.